Lola Marsh - Interview
R'n'R : How was born Lola Marsh ?
Lola Marsh : We knew each other from mutual friends. It was on Gil's birthday party, we played a few songs together and felt a strong connection. Gil then asked me if I wanna do something together, like a band, and I said yes. It took us time to meet each other and it was a bit awkward in the beginning.
R'n'R : Yael, Gil, did you live in a musical atmosphere when you were kids ?
Lola Marsh : Yes, both of us grew up in musical houses,
Gil : I played the piano from the age of six, and guitar from the age of 11
Yaeli : From a very young age I loved singing and performing, I started playing the guitar at the age of 14.
R'n'R : In the beginning of Lola Marsh you were just two. How and why did you decide to expend the band with Mati Gilad, Rami Osservaser and Dekel Dvir ?
Lola Marsh : Yes, In the beginning it was just the two of us. After a while we thought that the songs that we wrote deserved a wider production and frankly we wanted more friends to come along and play with us.
R'n'R : How do you compose ?
Yaeli : It's changing from time to time. Both of us write the songs, sometimes Gil will have the chorus, and I will have the verse, sometimes the opposite, sometimes one of us will have a line or an idea We could see a movie, read a book or hear a song that will inspire us to write.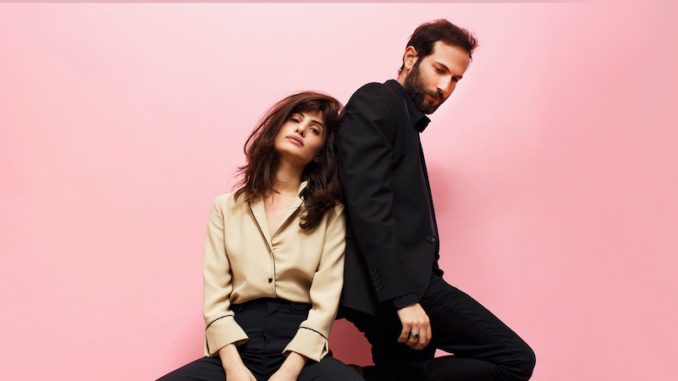 R'n'R : Your city, Tel Aviv can inspire you in your songwriting ?
Lola Marsh : Yes, Tel Aviv is a very colorful & inspiring city, the music scene here is wide and diverse. The general feel in this city is the feel of youth and "living the moment".
R'n'R : Yael your voice is very particular, how do you work it ? Do you have a voice teacher?
Yael : Yes, I have my teacher, (we share almost the same name! her name is Yael Cohen Lev !). She's actually my mentor and a good friend of mine as well ! A very wise and sensitive woman. I lost my voice once and had to have a surgery, I thought I could never sing again, and she really helped me gain my confidence back, and learn how to use my new voice because it had changed after the surgery.
R'n'R : Yael (again), in some songs (for instance Give Me Some Time) when i hear you singing, i close my eyes and i think to Stevie Nicks. Is she one of your vocal influences?
Yael : Actually no, but I think she's really amazing !
R'n'R : Gil, what relationship do you have with your guitars ? are you a guitars collector ? What is your favorite one ?
Gil : I can't call myself a guitar collector, I really like all my guitars and I have a special relationship with each guitar. I have my acoustic Martin with me for over a decade. Its not the best guitar in the world but We have a special relationship, and We know each other really well. What's amazing about guitars is that sometimes you buy a guitar, and it's sitting in your closet for a while and then after a few years you fall in love with it again. This is what happened to me with my Gretsch. It's my favorite guitar right now, and that's after I've not touched it in 8 years.
R'n'R : In Remember Roses you choose to cover Le Sud of Nino Ferrer. It is a song that french people likes a lot. Why this choice to cover it ? What don't you try it in french ?
Lola Marsh : Yeah, we wanted to add a cover to our previous album, a French friend of ours (from our French label) suggested this beautiful song. We thought about singing it in French, but we were too excited by translating it in English and give it our own interpretation. Our label then sent it to Nino Ferrer's family and they were happy with it and approved.
Video of Le Sud (Nino Ferrer cover)
R'n'R : When i listen to Echoes i feel an Ennio Morricone atmosphere. Was Morricone one of your influences ?
Yaeli : Oh yes, definitely. I grew up on lots of Ennio Morricone's soundtracks, he's a great inspiration to us. He passed away a few weeks ago and we covered one of his most beautiful tunes.
Video of Lola Marsh - A Fistful of Dollars (Ennio Morricone Cover
R'n'R : Several of your songs (like for instance Darkest Hour) are build like soundtracks. Do you compose sometimes watching movies ?
Lola Marsh : Movies are a big inspiration for us, and yes Darkest Hour definitely has this cinematic feel.
R'n'R : How is the life in Israel these days ?
Lola Marsh : Naturally things are not easy for small businesses, the self employed & musicians (everywhere in the world) with the pandemic. The nice thing that happened is that suddenly we have a lot of time to write because we are not busy with touring.
R'n'R : I am a fan of Orphaned Land, and i think like their music, your music can be a hymn to peace. Do you think music can and must have this role ?
Lola Marsh : We think that music is an international language, it connects hearts together, no matter where you come from, or what you believe in, a certain melody can unite and bring us all together.
R'n'R : What about a third album ?
Lola Marsh : So yeah, these days, because of the corona situation, all of our tours were postponed, so the only thing that was left to do is to write new songs.
R'n'R : Thank you for answering my questions. Have a beautiful summer and i hope to catch you in France soon.
Lola Marsh : Thank you for your lovely questions ♥
Published on august 2, 2020