Mark Allen Lanoue - Interview
R'n'R : As a child did you live in a musical atmosphere at home ?
MAL : I lived in a very artistic and musical family. The music was very broad across genre. Classical, Blues, Moody Blues, Theatrical, Classic Rock, Punk, New Wave, Hard Rock, Heavy Metal, dance, Pop, Opera, etc. My parents had a huge record /vinyl collection. I would immerse myself in those albums during my teen years. I sang quite a bit at church, which my lovely grandmother raised me in the church. She sang praises until she passed recently at the wise age of 100 years old.
R'n'R : How did you decide to be a professional musician?
MAL : I started playing on the Tenor Saxophone at first, around 6th/7th grade. Before that, I mainly dabbled in the school music programs and the arts. I painted and created pen and pencil art. I played in a superior concert and marching band in Junior High/High School and sat first chair in college. I did not really decide to become a professional musician until my early 20's.
R'n'R : When did you begin to learn guitar?
MAL : I started late on guitar. I was 17 when I started playing. However, I practiced 8 to 10 hours, sometimes 12 hours, a day and found myself excelling quickly. In 6 months, I was better than several my guitar playing friends. Except for a couple (Bobby Revell and David Knorr) that were excellent players. I took the opportunity to learn as much from them as possible.
R'n'R : What did you learn at the Musicians Institute in Hollywood?
MAL : I learned that I had much to learn. LOL There were some really smoking players coming through there. However, the school had some cool forums that allowed us to get up with the seasoned players and learn on the fly. I enjoyed the classroom instruction and that fact that there were so many musicians with different styles and backgrounds. I had the opportunity to record with one of Frank Zappa's alternate keyboard players. It was such a cool opportunity. This player worked with me at the highland art supply store in Hollywood off sunset strip. One weekend, we recorded an improvisational piece. It took everything I had to keep up with this guy. He was an amazing player. I remember playing the first part of the song and him then stopping us to move into the library where there was this grand piano and a bunch of books and recording equipment. He told me to band on the white keys on the piano while singing very badly "My Bonnie lies over the ocean". So., I went along. He pressed record on a reel to reel, I started banging on the keys and out came my worst rendition of "My Bonnie Lies over the Ocean", he started slamming stuff and throwing books around the room. Then we moved back to the recording area and finished the rest of the song. He then took all of that in true Zappa style and meshed that cacophony from the other room into the middle of the tune along with the music. It was both bizarre and cool! I lost that recording in Hurricane Katrina in 2005. It was a bummer to lose that cool piece of history, for sure. So now, Fiction Syxx, has two Musician's Institute alumni. Myself and our drummer, Rory Faciane.
R'n'R : You auditioned for Ozzy Osbourne and Ronnie James Dio. How were these auditions and were you disappointed not to be selected? Your friend Zakk Wylde finally got the job for Ozzy.
MAL : I did not make it to the personal auditions. However, Ozzy did send a cool picture and letter thanking me for participating in the first-round auditions. It was, however, a cool experience. I was, of course, disappointed. But that was the nature of the business. Zakk was in a band in New Jersey called Zyris (spelling?) and I was in a band called Portrait out of New Jersey. We played allot of the same clubs at the time, but never really bumped into each other. Zakk wasn't a close friend; he was just in the same club circuit at the time. I would latter become friends with the cat who became the runner up for that Ozzy gig, Mr. Jimi Bell. Jimi was in a band with my former band mate, Carl Sentence. Carl and Jimi were in a band with Black Sabbath's bass player, Geezer Butler" "The Geezer Butler Band". I would end up covering a song while with Carl in Persian Risk (USA) in 1992 called "Master of Insanity" which was written by Jimi and I had to learn and play live that monstrous solo that Jimi played on that track. Jimi is a beast of a player! That same track would later end up on the Black Sabbath Dehumanizer album which the Great Ronnie James Dio sang on.
R'n'R : Then you worked with Dean Fasano. Tell me the story about this adventure. I think Richie Sambora was involved too.
MAL : I met Dean through a mutual friend, Mike Luciano "The Looch"! He was a smoking drummer in the Jersey area. Mike was listening to me play guitar at my apartment in Jersey and immediately called Dean on the phone for Dean to hear my playing. Dean was impressed and asked if I would like to write with him. That was sometime around 1989. I had just written the two songs "Fine Line" and "Just One Step Away" along with my band mates from Portrait – Chris Flowers (Drummer), and Mike "Sheer" Gear (Bassist) and had recorded the music in Elmwood Park NJ. I had Dean come in and sing on those tracks and that is where the magic began. Dean had an incredible voice and style! He was so underrated! I remember being at Dean and then girlfriend (later his wife) Gerri's apartment in Woodbridge NJ. Dean and I were working on some new material. Every time Dean would sing, the bird that they had in the apartment would start singing with him. His voice could be so beautiful at times. Richie Sambora was originally involved with Dean in Mercy and Message before Richie joined Bon Jovi and Dean joined Prophet. I had interacted with Richie several times, but Richie was a private guy and I did not know him like Dean and Geri did. Richie later funded the release of a rare CD, Message Live, that had only 200 copies pressed. I had two bonus tracks on that CD. I also interacted a bit with Richie through his close friend Bruce Stephen Foster. Bruce is a mutual friend of mine and Richie's. Bruce is a talented keyboard player and song writer that played on "Nothing to Lose" on the first Kiss album, played with Gladys Knight, and is a Grammy Nominee. Bruce also played on some of my tracks from BILOXI, and Chasing Karma. Bruce had been in a band called Shark Frenzy with Richie, back in the day, as well. Dean came to live with me in Mississippi for a while to coach me on my vocals for BILOXI III, after the passing of our founding member and vocalist, Clyde Holly, in 2006.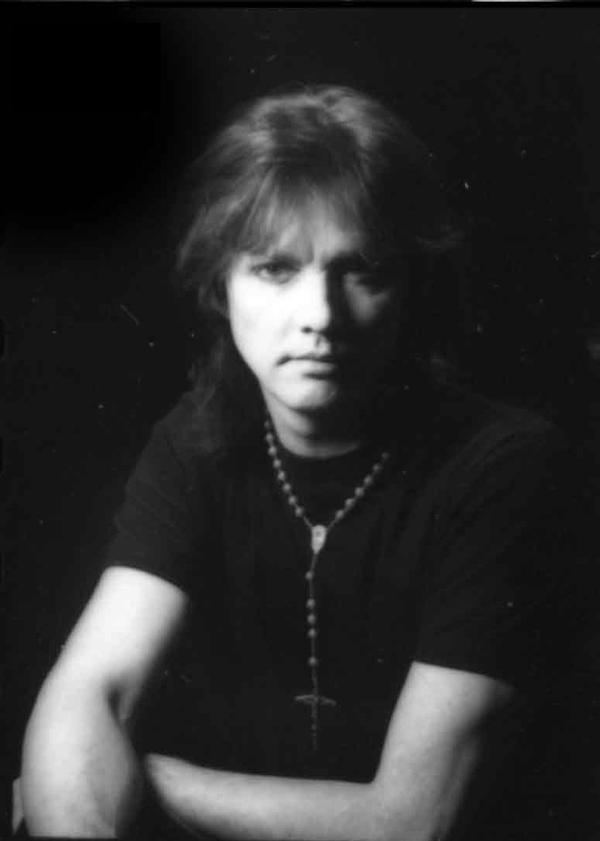 Dean Fasano : 1955 - 2009
Click here to watch the video of She's Gone by Message (Dean Fasano and Richie Sambora)
R'n'R : Fine Line is a great song of Message. Who wrote it ? What is the message you wanted to share with this song ?
MAL : I wrote Fine Line in my apartment in Hackensack New Jersey in 1989. My band mates worked out the arrangement and kinks in the music in our practice hall in Fair Lawn NJ. Those guys were awesome to be associated with… Chris Flowers (Drums) and Mike "Sheer" Geer (Bass). We also recorded a song called "Just one Step Away" which Dean Fasano also sang on. It can be found on Youtube. The message behind "Fine Line" has to do with that fine line between love and hate. At the time, I was going through a rough time and had some issues that were polluting the water between good friends, family, and my love interest. So one quiet night, I was compelled to sit down in my bedroom and write "Fine Line". That song would later become the title track for an album where my name was left off of the track. My name ended up on the Japanese release. But the Japanese label miss read the fax from Message's label and put me down as the drummer on Track 11. LOL Not only can I not, I repeat cannot, play a lick of drums, I am sure the drummer from the Jovi donated track 11 was pissed. "Who is this damn Lanoue punk!" Hey! Stuff happens. I am still proud of that song!
Click here to watch the video of Fine Line by Message with Dean Fasano
R'n'R : You were very close with Dean Fasano, the leader of Message and singer with Prophet (before Russell Arcara). He died in 2009 and he still remembered. Do you think he could become more famous than he was ? (he did background vocals on Richie Sambora's Stranger In This Town and Jon Bon Jovi's Destination Anywhere). Tell me some memories you had with him and Richie and Jon and Alec John Such.
MAL : Dean could have become more famous. I think that there were roadblocks along the way. And as with all of us. Sometimes we get in our own way and sometimes there are those who are jealous of other talents that can help block the way toward one's success. Dean was an amazingly talented individual. He was a good friend, and I loved writing with him. He taught me much about how to sing and how to think about singing in other ways while not stepping away from the human aspect of singing (sometimes the flaws in the performance are meant to stay there on track to show the human side of one's style). He passed away in December 2009. It was a difficult time for his family, his sons, my family, and me, indeed. He is still missed to this day. He did work on the "Stranger in the Town" album with Richie. You can hear his breathy backgrounds come straight through on "Father Time". He also worked with Jon on Destination Anywhere and with Paul Machine Dean and others on the Trixter release "Hear". As mentioned before, I was one degree from the earlier days of Richie and Alec. Although I know Richie through Dean, Ger, and Bruce; I am not as close to him as they are. Mainly an occasional text and I have met with Richie and spoken to him several times. I communicated with him and his associates during the making and pressing of Message Live.
Click here to watch the video of Just One Step Away by Message
R'n'R : Then you joined Persian Risk. Tell me how you joined them and why you're gone from the band.
MAL : I and my girlfriend, now wife, Lisa; moved to Florida shortly after me moving back to Mississippi from New Jersey. There I met Carl Sentence and his management. I auditioned for the band. The band then took on the name of its UK predecessor, Persian Risk. We added the USA on the end to separate it from the UK version. The members of the UK version were Phil Campbell who ended up in Motorhead and the drummer ended up in Wolfsbane with Paul Di'anno. Persian Risk (USA) ended up with label interest from Atlantic Records, Sony International, SBK, and several other labels; but conflict with management and changing of members brought that crashing down. Carl and I wrote, recorded, and performed live between 1992-1994. Carl later became the vocalist for Don Airey, Krokus, Nazareth, and others. He is a very talented vocalist and frontman and is still a dear friend to this day. He sang with me on the track "Larger Than Life" on the debut Fiction Syxx album in 2017. That track also had my ole friend from Jersey, Steve "Stevo" Brown (Trixter/Def Leppard), playing the middle guitar lead.
R'n'R : You studied with a vocal coach (Ron Feldman). What did you learn from him ?
MAL : Ron was an awesome teacher. He taught Jani Lane, a couple of the Backstreet Boys, and many others in the Florida music scene. I learned how to sing properly and with confidence. He had a pet peeve. He wanted one to pronounce their words when they sang. He used to use the Beatles song Yesterday during practices. And he would stop the practice if you sang YESTERDAY wrong. LOL That Jersey accent would get me in lots of trouble phonetically. Ron sadly passed away some years ago. We stayed in touch over the years. He called me before his passing to tell me that I was one of his favorite vocalists. I am sure he told all his students that. That is the kind heart that he had. He also taught me to focus more on the vocalists that did sing properly. He would always bring up Tony Harnell. He felt that in Rock music, Tony had amazing technique. I would agree!
R'n'R : How were you involved in BILOXI ? And Chasing Karma ?
MAL : I joined BILOXI in 2002. I was at Clyde Holly's studio recording a solo for a song that I had recorded called "The Coming". Clyde was preparing to release one of his studio compilations that this song was going to be on. When he heard and watched me play; he immediately asked me to come jam with the guys in BILOXI, Robert Gronkoski (Drums), Stefan Prescott (Keys), David Melton (Bass). I jammed with them shortly after and the rest was history. I joined originally to support the MTM International release "Right the Music" and we started writing the album BILOXI III. Hurricane Katrina hit in 2005 and then the passing of Clyde in 2006; which left me and Rob with the decision to finish the last BILOXI release or just let it go. We decided to finish the release. After finishing BILOXI III, we performed at ROCKLAHOMA 2008 and then we retired the name out of respect to Clyde. We renamed the band that we had for the ROCKLAHOMA line up ; Lee Cooley, James Gillies, Dave Melton, Rob and me and called the band "Chasing Karma". We released COSMOCRACY in 2011 and continued until 2012. Those guys now have a band called Strong Suit out of Mississippi.
Click here to watch the video of World by BILOXI
R'n'R : You also were involved in Liberty' N' Justice. That's the moment you met JK Northrup or did you meet him before?
MAL : Justin Murr ( LnJ) called me in 2006 after hearing my BILOXI material. He wanted me to work on a song with him called "Snake Oil". Something happened and we didn't reconnect until my playing on "Get Down" on "HELL IS COMING FOR BREAKFAST" and the song "Butterface" on "CHASING A CURE". I started interacting with JK more on the release "THE CIGAR CHRONICLES". I immediately picked up on the talents of JK Northrup and realized that he is also a very cool person as well. Since then, I truly feel that he is grossly underrated as a musician, writer, and recording engineer/producer. If anyone wants their recordings, mastering, etc to sound top shelf- call my brother JK at Alien Production Studios. You can find him at jknorthrup.com . His skill in all these areas are clear on the two FICTION SYXX releases for sure.
Click here to watch the video of Butterface by Liberty'n'Justice
R'n'R : Then you founded Fiction Syxx with JK Northrup, Eric Ragno, Rory Faciane and Tony Franklin (then Larry Hart). You released in 2017 Tall Dark Secrets. What do you mean in this title ?
MAL : I wrote a track called "Welcome to my Nightmare" in 2015/2016. I started recording it with JK. After playing it for some of the musicians in the circuit, it started to gain a pulse. I then wanted to use a name that I have been thinking about that has to do with my past, my interest in the spiritual, mythological, symbolism, and my unique birthdate of 6666. Fiction Syxx is a name that refers to the fictional part of what people think about the number 6 without them understanding the symbolism of the number of 6's. The Syxx has to do with both the number and one of my inspirations in music, STYX. Thus the "YX" is SYXX. The song TALL DARK SECRETS and the title of the first release has to do with the whole multiple identities. The façade that we can put on during the day… at our day jobs amongst communities that we want to fit into, while all the while closing all these secrets into our personal Pandora's box. It also has to do with society in general. Man is chaotic by nature and will hold many Tall and Dark Secrets for many reasons. With the advent of social media and technology; many cannot hide these secrets very easily anymore.
Click here to watch the video of Welcome to My Nightmare by Fiction Syxx (2017)
Fiction Syxx : JK Northrup, Mark Allen Lanoue, Rory Faciane, Larry Hart, Eric Ragno
Click here to watch the video of Where We Belong by Fiction Syxx (Tall Dark Secrets)
R'n'R : How do you compose, and do you have messages in your lyrics?
MAL : I am an old school writer. I like story lines that relate to real life, struggles, people, etc. I don't really have one formula for my writing. I think in multiple pipes. Sometimes I come up with a melody first, sometimes I write the guitar part first, sometimes I write a whole song on the fly. At times the message is there before I write the song, and sometimes the message come later. I am a writer that appreciates the other talent around me. I am open to critic and debate and to try the ideas of the others that are writing and recording with me. The individuals that are a part of Fiction Syxx are amazingly talented people and they inspire me every time I write with them. JK sends me ideas and states that he can change something back, if I don't like it. However, I have never wanted to change any of the part back, because they are always amazing and spot on. I cannot say enough about these musicians. The songs would not be close to the same without them.
Click here to read the chronicle in english of The Alternate Me
R'n'R : On june the 28th, Fiction Syxx will release a new album, The Alternate Me. Why this strange title ? What do you mean in The Alternate Me ?
MAL : The Alternate Me comes from the old GEMINI ID perspective. Fiction Syxx has two Gemini's. JK and I (The Alien ID). I see the Alternate ID in many people tough. For example. I have worked my day job for decades wearing suits, cutting my hair (Not a problem these days LOL ), and playing by the rules of those who want me to be that person. However, I am a musician to the core. I like to wear the cool clothes, wear earrings, play loud music, write songs, play live, etc. That is my true self. The Alternate Me. The man in the mirror. Etc. "Far from the light, lies the Alternate Me"!
Click here to watch the video of Monster In The Mist by Fiction Syxx (The Alternate Me)
R'n'R : In The Alternate Me we find a cover of Styx' Suite Madame Blue. Why this choice?
MAL : For years, in bands I would warm up with Styx. Either Blue Collar Man, Babe, Crystal Ball, or Lady. I could mimic Dennis De Young or Tommy Shaw. But people would turn their heads when I sang BABE and tell me that they thought Dennis DeYoung had stepped in when they had looked away. So for years people have asked me to cover a Styx song. Suite Madame Blue is a song about the RED WHITE AND BLUE, about the changing in time of the United States of America and is a song that had such cool movements in it. I have always been a huge fan of Dennis DeYoung, Tommy Shaw, and Styx in general. I didn't want to do one of their uber popular songs. I also had a friend that asked me to do "Suite Madame Blue" . So there it is.
Click to watch the video of Tall Dark Secrets by Fiction Syxx on The Alternate Me
R'n'R : What are your musical dreams?
MAL : My dreams are like many musicians. I want to see the industry come back. I want to see my fellow musicians reaping the rewards of their work. I want to see the revival of quality song writing. My dream was always to be a ROCKSTAR and to create music that touch people in some positive way. I hope I do that on some level, and I hope that I can be a positive part of other lives. Lastly, I want to let everyone know that they can order a copy of FICTION SYXX "The Alternate Me" at:
http://www.melodicrock.com/artist/fiction-syxx
https://www.nehrecords.com/product/ships-07-16-19-fiction-syxx-the-alternate-me/
https://www.importcds.com/fiction-syxx-alternate-me/762183470727
https://www.soundtrekdistributions.it/releases/6320
and many more to come.
Peace,
Mark Lanoue
@fictonsyxx (Twitter)
www.facebook.com/fictionsyxxrocks
Published on may 31, 2019