James Kottak - Interview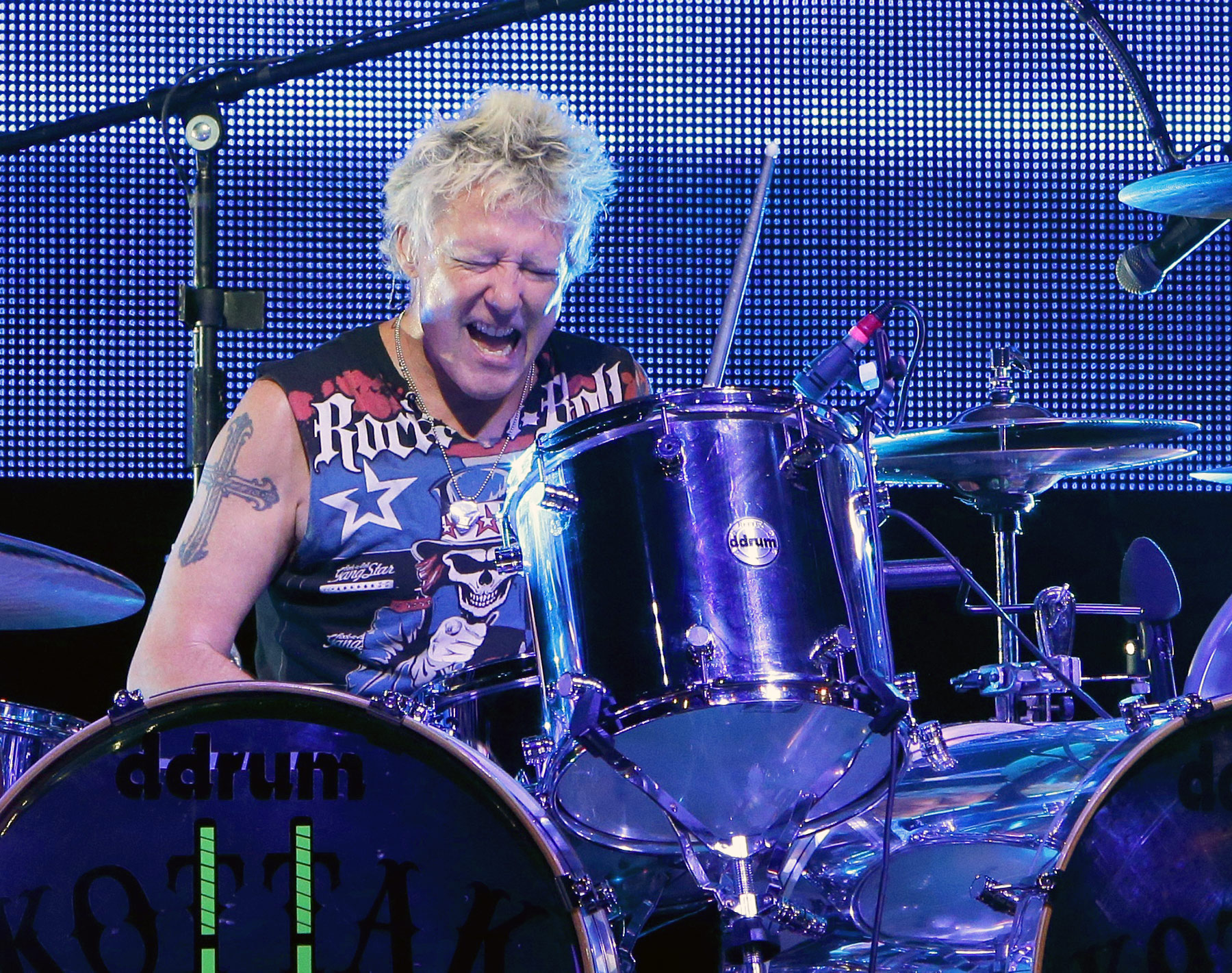 R'n'R : As a child, what kind of music did you listen ?
JK : Mostly early late '60's & '70's rock, Beatles, Led Zeppelin, Grand Funk Railroad and top 40 AM radio

R'n'R : Who are your first idols ?
JK : On drums, John Bonham, Buddy Rich. On guitar, Jeff Beck, Jimmy Page

R'n'R : Why did you choose drums as instrument ?
JK : When i was 9 i saw a drummer very close up playing and was amazed how fast and cool he was. Also, there was always music being played by my father who played piano and organ with his friends.

R'n'R : How did you know that you wanted to be in rock business ?
JK : I didn't i just wanted to play drums in a band…the business part came later.

R'n'R : You play in a lot of great bands (Montrose, Kingdom Come, MSG, Warrant…). Is it because you want to know a lot of human adventures or another reason ?
JK : It's about being a life long musician and living your dream. I love what I do and am grateful to have enjoyed so much success so far. It is a lifelong journey.

R'n'R : You are American and the other members of Scorpions are European (german and polish). Do you have the same vision of music than your colleagues ?
JK : No, that's what makes a band a band…chemistry. We all put our ideas in and you get a crazy result. Somrtimes good, sometimes bad, but occasionally LIGHTNING strikes!

R'n'R : Sometimes drums solo is annoying but with you it's different. People like when they see you playing these solos. How do you explain that ?
JK : I don't particularly care for drum solos either. I am fortunate to have audio/visual at my disposal and any thing i can ream of so that is cool but also makes it challenging to top my last effort. I think of it as being one with the audience…what do i want to see & hear?!

R'n'R : How did you meet Scorpions ?
JK : In 1988 my band Kingdom Come opened for them on the USA Monsters of Rock tour. We were also on the same record label.

R'n'R : You play with Scorpions since 1996. It's a long period. How do you explain this long time with the same band ?
JK : We are friends! I have my family at home and The Scorpions are my rock & roll family
R'n'R : You have your own band (Kottak). How do you find time to play with Scorpions and with your own band ?
JK : KOTTAK is on a break after doing four albums and many tours…Scorpions is my priority.

R'n'R : You met a lot of musicians in your rich career. Who are the most interesting you worked and played with ?
JK : Of course Rudolf, Klaus & Matthias of Scorpions. I have worked with so many musicians & producers i wouldn't know where to begin which is a very lucky thing!

R'n'R : I had the chance and opportunity to meet you in Caenin France2 years ago. Backstage you seemed very calm and when you were on stage you were totally different. Which one is the real James Kottak ?
JK : Like most people i have my ups & downs but for the most part I am excited about everything big & small. Like I always say 'Tomorrow is a Brand New Day'!

R'n'R : Who would you like to work with in the future ?
JK : AC/DC
Published on november 21, 2014
LAST COMMENTS
2019/02/18 01:19:51
Crafton on The Bookends
Wonderful article and so well written, we thank you dearly!