JK Northrup - Interview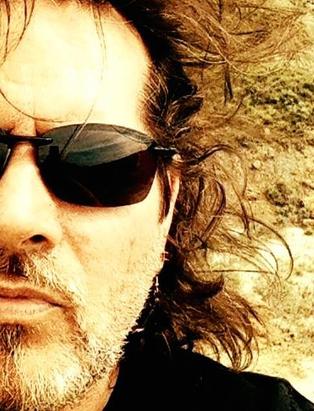 R'n'R : Who are your principal influences ?
JK - When I was in my teens Ronnie Montrose was my biggest influence as a guitarist. Ace Frehley was another. Then I started listening to Gary Moore and Eddie Van Halen !! Those two really got me going ! I am self taught, so I figured out all of the scales and riffs on my own. Other influences are David Gilmour, John Sykes and Steve Vai.
R'n'R : Terry Ilous, Jeff Scott Soto and Jorge Salan did some weeks ago an acoustic european tour. It was in small concert halls and very close of the audience. Would you like to do the same with just one or two friends and your guitars ?
JK - Actually, back in 2005 I went out on an acoustic tour with Terry Ilous, Kelly Keeling, Ron Keel and Charlie Wayne Morril. It was awesome !! We only toured in the US for a few weeks, but had a great. I have no plans right now go back out, but we'll see.
R'n'R : What are your hobbies when you don't play music ?
JK - That's an easy one. I go Dinosaur fossil digging about every other 2-3 years. That is something I have been passionate about since I was 5. I also love Baseball and the San Fransisco Giants are my team!! I try to go to watch them play when I can. Watching Zombie movies, especially The Walking Dead is my fave !!
R'n'R : How do you compose ?
JK - I almost never compose the same way twice. In some cases, I'll be given lyrics by someone and will be inspired by them. Often times I'll just start with a loop or a groove and start putting together the music and then lyrics and melody. So I really don't have a set way of composing.
R'n'R : How did you get involved in King Kobra ?
JK - I was in a band called Northrup and Johnny Edwards (Montrose and later Foreigner) was the singer. Our manager knew Carmine Appice and him to see us perfoming in L.A. His singer and one guitarist left to form The Bullet Boys, so he asked Johnny, our Bassist Larry Hart and myself to do King Kobra III album. Three of our songs were included and we did a video and a short tour before Carmine left to join Blue Murder.
R'n'R

: In King Kobra III you write three songs. Did you write them especially for this album ?
JK - All three songs were already written, but we did a few arrangement changes on one or two of them.
R'n'R : In an interview some years ago you said you'd like to work with David Coverdale. Is it true ? And do you think it could be possible ?
JK - Yes, Coverdale is a legend !!!! Going back to Deep Purple he has always amazed me with that golden voice. True story, when Terry and I were recording the Cage album, Tony Franklin was laying down some bass for us. He told me David was looking for a new guitarist and he thought I would be the right one. So he called him from the studio ! Unfortunately, he told Tony that he had already decided on Doug Aldrich who is a friend of mine. So I got that close.
Click and listen to Terry Ilous Ticket to Hell
R'n'R : Do you think that you'll work again with your friend Terry Ilous ?
JK - No doubt ! Terry and I still keep in touch and talk about doing another project. It's just a matter of timing. I love working with Terry he's such a great talent.
R'n'R : You're a guitar player, a bass player, a producer, a songwriter. Is it because you want to control everything ?
JK - Lol !! I guess in a way it truly is easier for me just to do it all without distractions from others, but I also really enjoy collaborating with other talented musicians.
R'n'R : When you're writing songs do you have a particular singer in mind to sing it ?
JK - I used to, but now I pretty much write for the song. I guess sometimes I'll try to sing a melody with someone that has influenced me.
R'n'R : Is it harder to play rock'n'roll nowadays than in the 80's ?
JK - Yes ! There is a smaller audience now for that sound. I tend to write with a slightly more modern sound these days because it's just how I've progressed as an artist.
R'n'R : You did two albums (Back on Track, Afterlife) with Paul Shortino. What about a third ? I think your guitar sound fits well with Paul's warm voice.
JK - Yes, Paul is one of the best for sure and thanks for the compliment ! We still do keep in touch and have discussed the possibilty of doing another album. We have worked together in the past few years on developing new artists.
R'n'R : Do you think internet changed the music market ?
JK - Definately ! Where else can you get hard working talented peoples stuff for free ? I mean you can't download a hamburger or a pizza ! It truly is sad, but also with the internet there are more and more possibilities to get your music to people that may not ever have had the chance to hear it, much less honestly buy it.
R'n'R : I think there is a revival for the 80's. What do you think ?
JK - I think you are right. More and more younger kids are rediscovering that sound and style. There was so much REAL talent from that era and the younger generation are starting to realize that.
R'n'R : Cage is a very good album. Why did you record only one album ?
JK - Well truth is that Terry and I have recorded 4 or 5 albums together under different names and different styles. Cage was meant to be a one album band.
R'n'R : What do you listen to these days ?
JK - Truly I listen to a little bit of everything. All styles and time periods. I never get stuck on anyone of them, although I can never get tired of listening to classic bands like Pink Floyd, Led Zeppelin and a few others.
R'n'R : XYZ « Letter To God » was recorded in a bad moment of life for Terry (i think). How was the ambience in the making of this album and how did you get involved in this project ?
JK - Yes Terry lost his Father and his unborn son during the making of the XYZ Letter To God album. It was hard on him and hard on me. Since I was already working with Terry on other things, doing that album was very natural. I co-wrote several of the songs and wrote some of the lyrics as well.
R'n'R : Liberty N' Justice is recording a new album. The album name is « Elephant in the Room ». Can you talk about this album and the name of this album ?
JK - Liberty 'N Justice is really more of a project than a band. I have been working with the co-founder Justin Murr for about 5 years now. I have written the music for all of the last three albums, including playing, producing, mixing and mastering them. I still haven't asked Justin how and why he chose that title for this new one !! I guess maybe I should.lol.
Click and listen to Liberty'nJustice Been There Done That

R'n'R : What are you the most proud in your career ?
JK - I could easily sum that up by simply saying that I have been blessed with the opportunities to perform, write, produce and hang out with some of the most iconic musicians ever !! A lot of them I still call friends. It still amazes me to think about that.
R'n'R : What is your topicality ?
JK - I guess my title would be « Jack of all trades, Master of none » !! Lol…Meaning I can do pretty much any aspect of music and do them very well. But I prefer the title, Guitarist, Songwriter, Producer, Recording Engineer and Mastering Specialist. I think that covers the topic !!
Thank you !!
Peace from JK Northrup
Click and listen to Sin with Jani Lane and JK Northrup
Click to enter libertynjustice website
Published on march 28, 2015
LAST COMMENTS
2019/02/18 01:19:51
Crafton on The Bookends
Wonderful article and so well written, we thank you dearly!