Adrian Vandenberg - Interview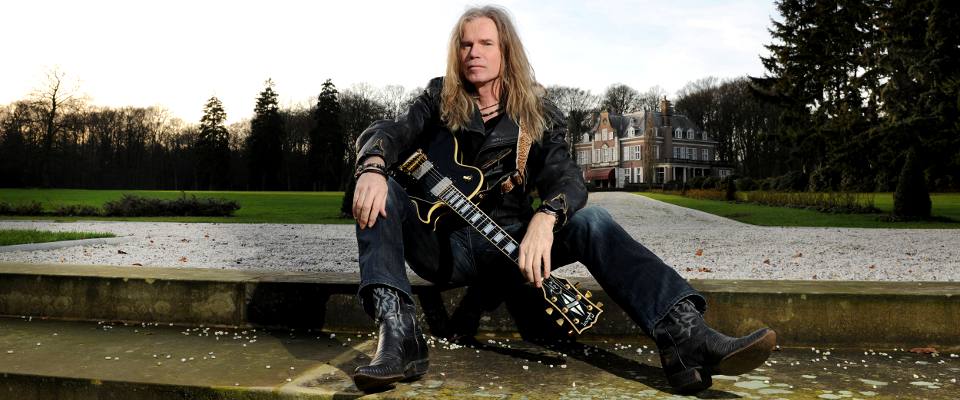 R'n'R : As a child, how did you discover guitar ?
AV : I played a bit of blues piano but was just drawn to the guitar very much, then I got a cheap plywood guitar from my aunt and then it all started... and accelerating when I heard Hendrix on the radio.
R'n'R : You have a house in France. Why this choice ? What do you appreciate in the French way of life ?
AV : Ever since I was a kid my parents took us to the South of France every year, I developed a lifelong love for France. I appreciate the 'joie de vivre' of the French, the appreciation for culture, the classic architecture, the wine & food, the beautiful nature with all the variety in landscapes across the country etc etc.
R'n'R : What French artists do you like ?
AV : Vanessa Paradis ofcourse and Brigitte Bardot in her best years ;)
R'n'R : You're also a painter. What is your state of mind when you're painting ?
AV : Comparable to when I'm writing music, just trying to let the inspiration and ideas flow as much as possible and see what happens..
R'n'R : Who are your principal musical and painting influences ?
AV : Ooofff..a lot : from Mozart, Bach, Vivaldi, Django Reinhardt, Albert& Freddie King, Hendrix, Early Clapton, Jeff Beck, Zeppelin, AC/DC to Jazz, Blues, Fado music, gypsy jazz and.. and.. and.. Painting : Dutch masters such as Rembrandt, Frans Hals, Vermeer, Caravaggio, Dali, Van Gogh, Appel, De Kooning, Corneille's early years..
R'n'R : After Teaser you started your own band Vandenberg. Did you feel like to be your own boss and create the music you wanted ?
AV : Teaser was my own band too, I really enjoy creating music and a 'band identity', and in the case of MoonKings it's such a blast to create that with talents like Jan, Sem and Mart, and write and perform the kind of music that comes from my heart.
R'n'R : How did David Coverdale approach you to join Whitesnake ? Why did he think about you for his band ?
AV : David asked me in 1983 for the first time, I'm a big fan of him so it wasn't easy to decide that I first wanted to try to make a mark of my own before joining an already famous band. We stayed in touch and I finally decided to join in 1986. We have a great connection, both musically and personally and we enjoy writing and playing together.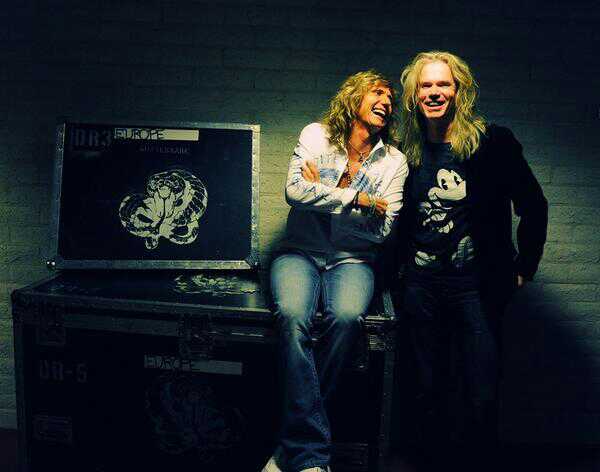 Photo : Adrian Vandenberg and David Coverdale
R'n'R : Why John Sykes play all the guitars in 1987 album ?
AV : The album was already almost finished when I joined. David and Geffen records asked me to make a new guitar arrangement for 'Here I go Again' which I did and subsequently I recorded new guitarparts and the solo for that song. Then the song become Whitesnake's biggest hit, worldwide :) and #1 in the USA
R'n'R : I think David Coverdale has the perfect voice to play the blues. Do you feel like doing a blues album with him ? And why not with a special guest on every song.
AV : I agree, yeah we've talked about that and you never know ;)
R'n'R : In 1997 Whitesnake recorded Restless Heart a very good album but an underrated Whitesnake's album. Why in your opinion ? I think it might be a David Coverdale solo album but the record label wanted a Whitesnake album. Is it true ?
AV : Well yeah, we made it in a time when Grunge was the hip thing and we were labeled as an 80's band, which is pretty stupid and shortsighted. Where are all those 'hip' grungebands now? Whitesnake, Aerosmith, AC/DC, Van Halen etc etc are still rocking the stadiums worldwide. So will MoonKings soon! And no, I don't really know about that 'solo album' thing, it was clearly a Whitesnake album in my opinion.
R'n'R : Only one album for the great Manic Eden with Ron Young, Rudy Sarzo and Tommy Aldridge. Why ?
AV : Unfortunately I had to decide to stop with Manic Eden for personal reasons, it broke my heart because it is still one of my personal favorites.
R'n'R : The song Do Angels Die from the Manic Eden's album is really wonderful. Can you talk about this song and tell me who wrote those beautiful lyrics ?
AV : Well I meant that song (still one of my favorites) as a tribute to Hendrix, as you can tell by the obvious influences in the guitar playing. The excellent singer Ron Young wrote those beautiful lyrics.
Click to watch the video of Manic Eden's Do Angels Die
R'n'R : If tomorrow David Coverdale calls you to join permanently Whitesnake. What will you answer him ?
AV : Nobody has ever been in Whitesnake permanently apart from David, although I hold the record with my 13 years (1986-1999) ;)
R'n'R : Who had the idea to play in Japan for the excellent "Starkers in Tokyo" with only you and David
AV : It was actually meant as just a live radio thing. David and I realized that it would get bootlegged because of the good sound quality, so we decided we might as well release it as a live thing. Which we did :)
Click to watch the video of Whitesnake and Adrian Vandenberg, Here I Go Again live
R'n'R : Other former members of "Vandenberg" did not approve that you used the name "Vandenberg" without your first name, which resulted in a lawsuit. Can you tell me about it ?
AV : A very sad and pathetic situation indeed. These guys didn't achieve anything by themselves in over 30 years time and suddenly after all that time they wanted to try to kidnap my name and try to do concerts under my name. Remember that I put the band together, wrote all the songs and lyrics, painted the album covers, did all the interviews and the band carried my personal name etc etc. They lost 5 lawsuits now and a lot of money. I wouldn't be surprised if they try again one day. Very sad, frustrated, grumpy old men.
R'n'R : Why did you stop playing music for ten years ?
AV : I was fortunate to get a daughter with an ex girlfriend in 1999 and since the relationship broke up when my daughter was three years old I wanted to see her grow up, to me that is very important.
R'n'R : In 2013 you formed the very good Vandenberg's Moonkings with other dutch musicians. Wasn't it a challenging task to form a new band with three not very known musicians ?
AV : I love a good challenge and I wanted to surprise people by not taking the easy, predictable route. I love these highly talented guys and really enjoy working with them!
R'n'R : Do you think Vandenberg's Moonkings is made to last ? What about a second album ?
AV : I sure hope so and I will try to keep it going as long as I can, working on the 2nd album right now. It's gonna be great and I'm very excited about it, can't wait to tour again!
R'n'R : If I say that Vandenberg's Moonkings is a mix of Led Zep, Aerosmith, Def Leppard and Whitesnake, do you agree with that ?
AV : I can't really see Def Leppard in there, but if you add Black Crowes, AC/DC, Humble Pie, Early Jeff Beck group ft Rod Stewart, Free, Bad Company, all real timeless rock with soul and straight from the heart...then it's fine by me!
Click to watch the video of Vandenberg's Moonkings' "Breathing"
R'n'R : Are you a happy man today ?
AV : I'm a very happy man and I feel very fortunate to be able to make a living from my passions!
Click to watch the video of Vandenberg's Moonkings with David Coverdale - Sailing Ships
Published on january 19, 2016