The Niro featuring Gary Lucas - The Complete Jeff Buckley And Gary Lucas Songbook
This album sees its genesis begin in 1991/1992. Gary Lucas meets Jeff Buckley at a tribute concert to Tim Buckley, Jeff's father. Gary and Jeff decide to write together for Gary's band, Gods And Monsters, and twelve tracks will emerge. Gary Lucas is an excellent composer and an accomplished guitarist having played five years with Captain Beefheart which earned him a good reputation on the New York scene.

Gary Lucas composes the riffs and harmonic structure while Jeff Buckley takes care of the vocal melodies and lyrics. On March 13, 1992, at Saint Ann Church in Brooklyn, the duo accompanied by the Gods And Monsters performed a concert to present their project. But against all odds, Jeff decides to leave the project and continue the adventure solo. In 1994, Jeff Buckley released the phenomenal Grace in which he plays Mojo Pin and Grace, written with Gary. For this, Jeff invites Gary to play the guitar parts. In 2002, we find some songs written by the two men on the album Songs To No One. The possibility of working together again had been mentioned but the death of Jeff Buckley in 1997 obviously stopped this eventuality.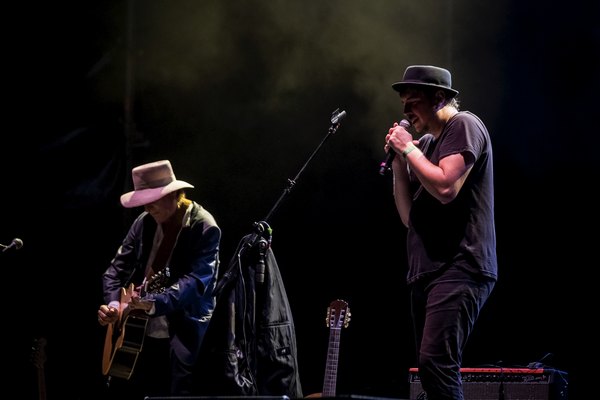 Until 2018, Gary Lucas was frustrated not to have been able to bring this project to fruition with Jeff, so he asked Italian singer Davide Combusti and his band The Niro to record the entire original project, including five tracks never released before. It will be called The Complete Jeff Buckley & Gary Lucas Songbook.

No One Must Find You Here is a long piece filled with sublime guitar passages as evidenced by the intro then the passage to arpeggios. And, yes, ladies and gentlemen Davide Combusti is up to the occasion. He must have felt enormous pressure on his shoulders before accepting the project, but the Italian also has an exceptional voice. Even if for me, considering that Jeff was a genius, the American remains untouchable. The production of Pierre Ruiz is respectful, silky and the sound is pleasant to the ear.
Video of No One Must Find You Here
Story Without Words still offers very beautiful guitar parts, sumptuous vocal harmonies, and everything sometimes reminds us of the acoustic moments of Led Zeppelin. We find the atmospheres that Jeff liked on In The Cantina and on the blues Bluebird Blues (Led Zeppelin influences too). A magnificent blues, with sublime guitars and vocals full of sensitivity.
We change our musical emotion with the hovering Mojo Pin that Jeff had recorded for his album Grace. The acoustic guitar / voice exchanges are of divine beauty. Davide Combusti is perfectly at the height of the event, and it's a big fan of Jeff Buckley who tells you that. The vocal harmonies are dazzling. Same remark for She is Free, a sunny track, on which the cello interventions and backing vocals are absolutely breathtaking.
Harem Man is another blues. Always of zeppelinian inspiration. Lots of guitars, keyboards and a heavy rhythm. As for Malign Fiesta (No Soul), it's fast and nervous rock'n'roll. Generous guitar parts introduce Song To No One, influenced by That's The Way by ... Led Zeppelin. A very beautiful song on which Davide is perfect once again. Cruel is electric, Davide perfectly conveying Jeff's vocal and harmonic spirit.
We recognize Grace thanks to its very original guitar parts. And if we have in mind the very particular way of singing of Jeff Buckley, we can only recognize that Davide Combusti has appropriated melody and music as if this title had been written for his voice.
I am sure Gary Lucas can proudly close the chapter of his unfinished collaboration with Jeff Buckley because he has found with Davide Combusti & The Niro a singer and a band perfectly up to the adventure. And the task was far from won. Jeff Buckley can rest in peace.
Published on september 13, 2020