The Defiants - Zokusho
Danger Danger. A name that reigned over the world of melodic rock in the late 80s. And which continues today to produce quality records. Paul Laine, who has sung on four D2 albums, returns with two of his former partners in crime, Bruno Ravel (bass) and Rob Marcello (guitarist). In 2015, the band is meeting at the suggestion of the president of the label Frontiers Music, Serafino Perugino and released a superb first album. Steve West, drummer for Danger Danger, completes the quartet The Defiants as a special guest.

On September 13, 2019, the group of four will release a new album entitled Zokusho. Zokusho means in Japanese "the sequel" or "the next chapter". Does melodic rock still exist in 2019? Clearly, the answer is yes so this album is sublime from start to finish. Just the first title, Love Is The Killer proves that the challenge The Defiants is a success. The voice of Paul Laine has not moved an inch, the choirs are divine and the interventions of guitars are melodious and hard rock at a time. The rest is just as good. The production is modern, powerful and the chorus flies like an eagle in the heavens. Absolutely amazing. Lovers of melodic rock, Zokusho is the album you have been waiting for a long time.

The following ? This is not the very melodic Hollywood In Headlights that will lower the level of the album. Neither Fallin' For You. Keyboard interventions are clearly present but never invasive. And what a pleasure to hear Paul Laine to sing this way.
Video of Hollywood In Headlights
I admit to having a crush on Hold On Tonite, a mid tempo where Bruno Ravel on bass and Steve West on drums do a sober but absolutely essential work. The choirs are worked like a diamond. Rob Marcello's solo is a precious stone. But everything is accelerating now, Allnighter is a hard rock with heavy guitars and solemn keyboards. And what a chorus! Lyric, metallic.

Lull. U X'd My Heart starts with sweet arpeggios before taking on a mid tempo pace. Mid tempo, yes, but never cutesy, nor slow. Impeccable. Are we headed for the perfect album? Again and again a chorus that marks the spirits and hammers you in the head. The slow bridge before Rob Marcello's solo is magnificent.
It Goes Fast is a mid tempo too. However, I prefer him the more rhythmic Stay. Paul Laine excels, the guitars fly away and the Ravel / West pair is remarkable. There is some U2 in Alive. The guitars sound like The Edge, the rhythmic, everything indicates an influence of the British quartet. It's fresh, modern, alive. Drink Up, the last title of the album is a rock'n'roll that Rod Stewart would not have denied.

In the end, a great album of melodic rock, which in 2019 will find a nostalgic audience of the 80s and a younger audience looking for real music played by great musicians. Zokusho is released on September 13th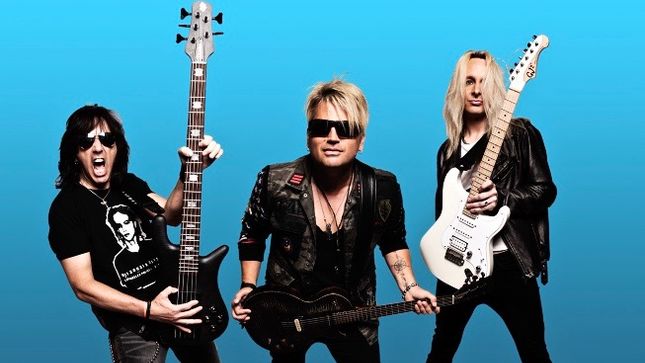 Published on august 31, 2019