Stone Broken - Ain't Always Easy
Stone Broken is an English band from Walsall. The band members are Rich Moss, voice and guitar, Chris Davis, guitar and voice, Kieron Conroy on bass and Robyn Haycock on drums. Their first album, All in Time, dates from early 2016. It was already representative of what the band can offer : powerful and melodic. For their second album, Ain't Always Easy, you will have to wait until March 2, 2018. But not for everyone because I have already been able to listen to this album with a "desertic" sleeve and 11 titles.
What is interesting to note, at least for me, is that there are very varied titles. There are hot songs like the single Worth Fighting For, pretty stoner rock, with very aggressive guitars. All in a melodic spirit. Same motive, same punishment for the second title Let Me See It All. Nothing revolutionary but the rock'n'roll spirit reigns in master. The guitars are pleasant, as is the voice of Rich Moss that varies from one title to another. In the same register that can offer their colleagues from Broken Witt Rebels, another English group, for example. Heartbeat Away also oscillates between stoner and melodic with always excellent guitars and a powerful rhythmic but silky.
Change of style with Home, mid-rock, mid-ballad, a bit like some American bands can propose, Seether for instance. Pleasant. Follow Me is a little punchy but still melodic, Rich Moss still doing a good job behind his microphone. Custom made for your car radio. Nice start for I Believe, then big guitars, Robyn Haycock felling a big job behind her drums. Stone Broken never loses sight of the melodic, typically American side. Doesn't Matter is on the same mold, big guitars and huge chorus.
I love Anyone with its mid tempo, the guitars calming down a bit. It can be listened to on radio without problem. A beautiful moment. After a little respite, the big guitars come back, Just A Memory offers us quite nervous verses and a melodic chorus with always an excellent Rich Moss. Between stoner rock and Journey. The combination is very pleasant. Other Side of Me conforms to the album, a tone below nevertheless.
The Need Thing I Need closes the album in a melodic tone. The guitars are quiet, offering rock flirting to FM rock. The solo is invigorating.
In the end, eleven friendly tracks, for an album that is a great surprise for me. Everything is coherent, without apparent weakness. I love to listen to music in my car, it's the ideal album. Stone Broken will tour in Great britain with Jared James Nichols and The Bad Flowers in February and March 2018. A date is scheduled March 16 at the Forum de Vaureal near Paris.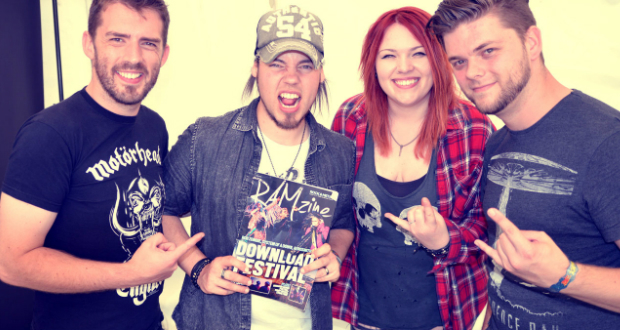 Published on december 15, 2017