Robert Tepper - Better Than The Rest
Robert Tepper is an American singer born in 1953. He is best known for his No Easy Way Out song, which he played for the soundtrack of Rocky IV in 1985. The following year, Sylvester Stallone again calls on him for his Cobra movie, for which Robert plays Angel of The City. Also in 1986, he co-wrote Le Bel Age with Guy Marshall for Pat Benatar and his album Seven The Hard Way. Robert Tepper regularly releases albums but also writes music for television and cinema.

A few weeks ago the American released this excellent solo album called Better Than The Rest. Eleven titles of AOR, in other words melodic rock. Robert Tepper is a legend of melodic rock and his voice represents always superbly this kind of music. He collaborates with Spanish guitarist Pablo Padilla after signing with the label AOR Heaven.

The compositions are solid, racy, airy and, of course, melodic. Witness, this first title, Why Does Over (Have To Be So Sad), the intro made of keyboards but very quickly energetic and sharp guitars take center stage, helped in that by a rhythm without flaws. It's melodic rock of solid quality. And the voice of Robert Tepper is still there. Clear, powerful and luminous. It's impossible not to smile while listening to the song Better Than The Rest. Sleek and efficient rhythmic, infallible guitars and always this absolutely perfect voice for this kind of rock. Magical and beautiful. You will sing on the chorus.
Video of Why Does Over (Have To Be So Sad)
Always the same pleasure of listening with the irresistible All That We Never Have. nice backing vocals and catchy chorus. Lovers of melodic rock, you are on your favorite terrain. Testimony is more subtle, softer, more aerial. At least for a minute because after pretty electric guitars enhance the sound and atmosphere.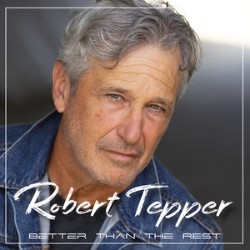 Time Just This Time is a pure jewel, made of finesse, sweetness and voluptuousness. And this magical voice accompanies us. We are in the middle of the 80s with a resolutely modern sound. And it's not My Yesterday that will change my mind on this record. Discreet but effective arrangements, incisive guitars and rhythmic well present.
Official video of Time Just This Time
Sublime intro for Tell Me You Love Me that could have appeared in the soundtrack of Miami Vice. A magical title with keyboards, choruses and melodic rock rhythm. Nostalgia? Yes of course. And we like that. Note on this title, a very nice guitar solo. The rhythm is accelerated with the swirling Show Me Where The Light Is Going to sparkling guitars.

Beyond The Atmosphere is more melancholy, but in my opinion the best track of the album. We are like cotton wrapped so guitars, synths and rhythm are intoxicating sweetness. Melancholy yes but far from sad. A beautiful title. I Don't Want To Make You Love Me is more jovial, more energetic. It better represents the melodic rock and the 80s. And what final this song proposes us.
Video of Beyond The Atmosphere
The last title of the album is sumptuous, You Know Just How You Feel is a jewel, a box in which the ten other songs of the album come to plunge. I don't hesitate to say that You Know Just How You Feel is a masterpiece. Listen to the guitar in the middle of the song. And the keyboards. The voice. Everything is perfect.
Video of You Know Just How You Feel
Better Than The Rest is an album of excellence. Simply. A marvel of melodic rock, quality, magic. Thank you Mr. Robert Tepper for continuing to bring this kind of music to life. AOR forever.
Published on october 20, 2019