Quiet Riot - Hollywood Cowboys
Quiet Riot was founded in 1973 by Randy Rhoads (future genius guitar player of Ozzy Osbourne) and bassist Kelly Garni. Kevin DuBrow on vocals, and Drew Forsyth on drums stabilize the band in 1975. Randy Rhoads left the band in 1979 to join Ozzy Osbourne, the band stopped in 1980 and came back to life in 1982 (after the death of Randy Rhoads) when Carlos Cavazo (guitars) and Frankie Banali (drums) are recruited by Kevin DuBrow.

The band released good albums, produced a few hit songs, broke up, reformed and, unfortunately, Kevin DuBrow died of a cocaine overdose on November 25, 2007. It was Frankie Banali who took over the band, which today is consisting of Frankie Banali (drums), Chuck Wright (bass), Alex Grossi (guitars) and James Durbin on vocals since 2017. In 2014, Quiet Riot is released 10 and in 2017, Road Rage.

But in 2019, the quartet is not dead since November 8 will be released Hollywood Cowboys. Is it the album of a band that has already said everything? A band adrift? Or just a good rock album? Or a record that perpetuates the solid hard rock of the Quiet Riot of the 80s?

Don't Call It Love is a classic but solid hard rock. James Durbin is very good on vocals. This is an excellent track on which Frankie Banali is ruthless behind his drums. From honest work to sometimes delicate and elaborate arrangements. In The Blood is the same. The chorus is effective and the guitars bright. I like it a lot and I am pleasantly surprised by the hard rock proposed by the band in 2019.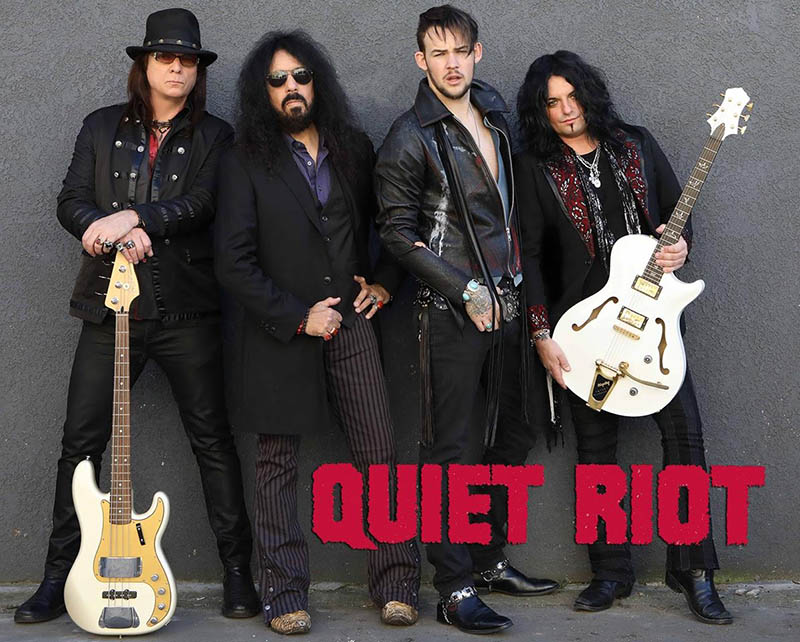 Big drums in Heartbreak City intro, and rock guitars, very rock. The rest is melodic and always a superb sense of chorus. You will love Heartbreak City and its melodic bridge. The rest is not bad too. The Devil That You Know is fast, keen and Frankie Banali does a great job. Notice the superb solo of Alex Grossi. Change Or Die follows the same route as its predecessor, the choruses bringing the melodic touch.
And then a blues ... A fucking good blues. Roll On is a slow blues. James Durbin excels behind his microphone. He lives this blues and the guitars are admirable, fantastically driven by a sober but ambitious rhythm. An intense moment even for purists of the blues. Insanity is probably THE title of the album. Instrumental for more than a minute before the entry of James Durbin's voice. A long title, fast, a powerful and incisive solo by Alex Grossi. Notice the flawless production of Frankie Banali himself.

Hellbender has an air of Led Zeppelin and James Durbin takes intonations of Dave King, the fantastic singer of Fastway in the 80s. A good chorus, a very good song, on efficient guitars. I like this title. Wild Horses is more classic. A hard rock quite common, perhaps, in my opinion, the weakness of the album.

On the other hand, Holding On is much better. Acoustic guitars give way to electric guitars. The rhythm is simple, sober but incredible energy. A sublime song with precious arrangements and on which James Durbin justifies his rank of singer of the band.

Last Outcast shines with its speed, rock'n'roll choirs and uncompromising guitars. It's a short title that gives way to Arrows And Angels, which I prefer because it's more melodic. Even if it's pure rock hard. We are closing this Hollywood Cowboys so brightly.

A good hard rock album made with honesty and love of music by four musicians who rock the world for a long time already. I take this opportunity to wish Frankie Banali a good recovery after he was diagnosed with pancreatic cancer. And thanks for the music. They are Cowboys, they come from Hollywood.
Published on november 1, 2019