Lola Marsh - Someday Tomorrow Maybe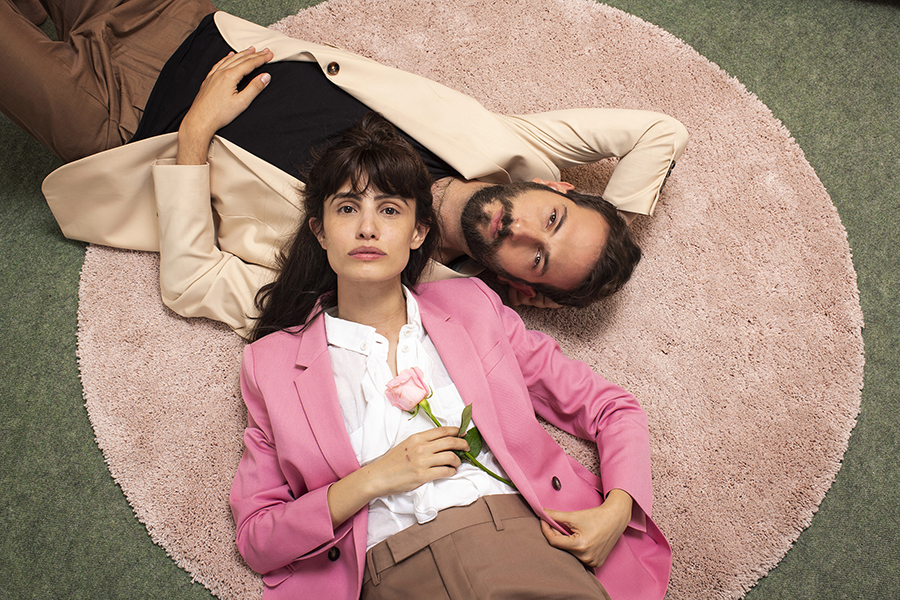 The Israeli duo Lola Marsh returns with a second album, after the excellent Remember Roses in 2017. Lola Marsh returns, and that's good for our ears, because this album is more successful and more mature than the first one.

Twelve songs and Echoes which begins the album with its electronic tunes. The hoarse voice of Yael Soshana Cohen carries us away and delights us. The beautiful musical flights and the choirs are superb. We even feel an Ennio Morricone atmosphere. Nice introduction. As for Only For A Moment, it is a very effective, joyful song that immediately gives a smile to the lips. Try it, you will see the result.

Ah! Hold On and its atmospheric intro. We are between grandiosity and intimacy. A title of absolute wonder, which takes us far. The mixture between the voice of Yael and the piano of Gil Landau in the middle of the song is sumptuous. Magnificent. Strangers On The Subway is the folk touch of the record. Intimate, thanks to Gil's beautiful acoustic guitar and Yael's vibrant voice. Like In The Movies is a modern, elegant song and one easily falls in love with Yael Soshana and her captivating voice.
In Your Eyes is a fragile folk - what a beautiful acoustic guitar - on which Yael's voice is trembling with emotion. Dekel Dvir's drums and Mati Gilad's bass, effective rhythm section, give this piece a rich identity and closes with a military rhythm. We come back to a modern, rhythmic, electronic, but always human and emotional sound with Give Me Some Time. The voice of Yael Soshana Cohen here takes Stevie Nicks intonations. And we love.

Lots of sunshine and kindness in the acoustic What Am I that Yael and Gil sing together. The guitar chords while arpeggios are complex and beautiful. The duo is helped once again by a very effective rhythm section. Darkest Hour is more orchestral, almost a soundtrack with its flights of stringed instruments. We come back to something simpler, more fragile with the sweet Four Long Seasons. The acoustic guitar coexists with keyboards, far from being invasive, and this voice and the choirs of Yael that we know well now.

In The Morning is both nostalgic and modern instrumental. Where Are You Tonight ends a majestic album in style. On this last piece, we revisit all of Lola Marsh's music : nostalgia, modernity, influences and the message that the duo sends us. It's beautiful, it's fresh, it's epic, the atmospheres are described with gentleness and kindness. A hymn to peace.
Published on april 19, 2020