Jeff Buckley - Grace (1994)
Unfortunately, I only heard of Jeff Buckley after his death in the waters of the Wolf River, a muddy Mississippi tributary. He had decided to go swimming while dressed. What a funny idea. Or rather, what a fatal idea. I read an article in a magazine about his death and I decided to better know this artist which I obviously missed the concert of the Olympia of Paris on July 6, 1995. Fortunately I got the CD and from time to time I listen to sometimes the apocalyptic version of his Hallelujah.

His meeting with Gary Lucas in 1991 was essential. The current goes well between the two men and they write some titles together. They play at Tim Buckley's tribute concert (which Jeff has little known), Jeff's father and Jeff Buckley's great talent is spotted. It's at this time that the two men composed Mojo Pin and Grace. But big differences of opinion are soon emerging between the duo that ends his collaboration. It was at this time that Jeff discovered a small Irish bar on the Lower East Side of New York. The Sin-é. And it is in this small bar that the legend takes shape. There he sings Dylan, Nina Simone, Van Morrison, Joni Mitchell and especially Leonard Cohen's Hallelujah. He was quickly signed by Columbia, his idol Bob Dylan's record company, but he decided to take his time to record and form a band. Meetings with Mick Grondahl (bass), Matt Johnson (drums) will be dominating. Gary Lucas will even come back to record Mojo Pin and Grace co-written with Jeff. Then in the middle of the recording the guitarist Michael Tighe is recruited, he will play on So Real.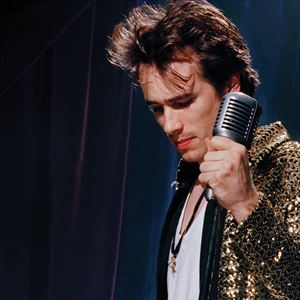 Grace is a record that will have marked his generation. Jeff Buckley's many influences range from rock, jazz, French songs, folk and blues. Mojo Pin is the first title and from the beginning we notice the angelic voice of Jeff, his guitar playing different from others. We are hanging on Jeff Buckley's lips and the escaped notes of his guitar. And the guitar of Gary Lucas too. The duo works perfectly. Same magic, and more, on Grace, where one is caught in the more than particular universe of Mr. Buckley Jr. Grace is a monumental piece where everything is beauty: rhythmic, guitars, voice, choirs and guitars.

And what about Last Goodbye, which is amazingly beautiful. The string arrangements, twined with Jeff's acoustic guitars and heavenly voice, bring about this inexplicable joy when you listen to something unique, a music that causes this rare sonic orgasm. Lilac Wine is a cover of James Shelton composed in 1950. It is a sweet song with pretty clear guitars and this divine voice.

Click here to watch the video of Last Goodbye

So Real is composed by Jeff and his guitarist Michael Tighe. A strange rhythm that fails to find its cruising speed, despite a good chorus. On the other hand, the version of Hallelujah written by Leonard Cohen has entered the legend. I will remember the live version of the Olympia where no spectator has dared to emit a sound, a breath before the end of the song. In the studio, it doesn't lose anything of its magic. However, it should be noted that Jeff takes over here the version of John Cale that had obtained from Leonard Cohen the modification of a passage for his very personal version released on the compilation I'm Your Fan in 1991. But, we must confess that Jeff Buckley's version is untouchable. No superfluous arrangement, no instrument other than the guitar and that unique voice that will shake you from head to toe. Literally. Trying to resist this praise of God is impossible. Glory to Jeff Buckley. It seems that Hallelujah talks about a relationship in a symbolic way. Another mystery that Leonard Cohen will leave in suspense, adding to the legend of his masterpiece.

Click here to watch the video of Hallelujah live in Chicago

Acoustic guitars of Lover, You Should Have Come Over remind us of reality. More agreed, it's a nice song, a nice ballad, with beautiful organ passages but it is difficult to pass after a Hallelujah coming from the distant galaxies. Corpus Christi Carol is a title written by Benjamin Britten, a British composer. Jeff Buckley's exceptional voice takes on a new dimension. Listen and let yourself be carried away. Divine.

Eternal Life is a rock close to grunge. The guitars are epidermic and suddenly Jeff's voice turns into a rock volcano. Dream Brother seems to be Jeff Buckley's answer to his father Tim's Dream Letter. The rhythm is jerky, strange, like coming out of a cloud. Then the song takes a new twist with some more rock guitars. So Real was preferred by Jeff to Forget Her, which he considered weak, to the chagrin of the record company. We find today Forget Her at the end of the album. And that's good because it's a masterpiece. A marvel of light guitars, various, solo end as Calais lace. The lyrics are beautiful, mythical, melancholy and sad. My favorite Jeff Buckley song. We are with the narrator in his suffering, we understand, we live with him. Upsetting. Absolutely poignant and moving.

Click here to watch the video of Forget Her live

Yes, all is not perfect in this album, there is some wobbly but it gives it its charm and its original side. But there's Hallelujah, Last Goodbye, Mojo Pin, Grace, Forget Her, and it's already great and enough to make Grace one of the most beautiful albums of the 90s and that will allow Jeff Buckley to know an Eternal Life. Hallelujah mister genius!

Click here to watch the video of Grace
Published on january 1, 2019
LAST COMMENTS
2019/02/18 01:19:51
Crafton on The Bookends
Wonderful article and so well written, we thank you dearly!