Jack Savoretti - Sleep No More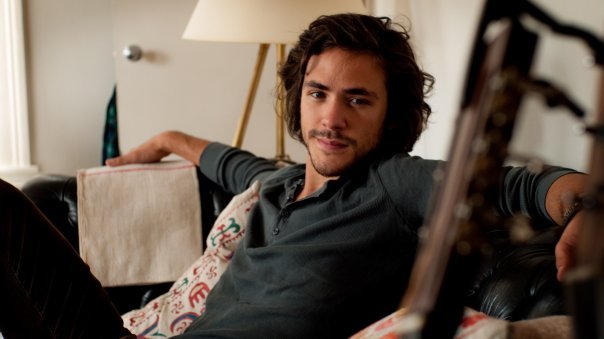 Jack Savoretti is an English singer and as his name suggests, he has Italian origins. He is 33 years old and begins to have a great reputation in the music scene and more commonly in folk pop rock. With his title, Soldier's Eyes, he participated in the soundtrack of the series Sons of Anarchy. His main influences range from Bob Dylan to Bob Marley, Simon & Garfunkel, Jackson Browne, Serge Gainsbourg and Otis Redding. He has a solid musical background. Slowly but surely, he makes talk about him thanks to beautiful albums and songs.
Sleep No More is his fifth album after the very successful Written in Scars in 2015. He offers us a superb duet with our Frenchy singer Rose, a title they co-wrote both. It's called C'Etait Juste Hier and it's the adaptation of Jack's song, When We Were Lovers. Their voices mix beautifully, the music is pleasant, melodic. A hit without a doubt. The guitars are electric but not too much. Rose's soft voice responds to Jack's somewhat broken voice. Frankly, a duet like we would like to hear more often. A title made for the radio without ever being mournful. Whenever a Jack / Rose album?
Deep Waters is a pure product Jack Savoretti. Acoustic guitars, broken high voice, ultra licked text, worked up to perfection. Soft and rhythmic at the same time, Savoretti's trademark. I'm Yours is gorgeous, yet not here falling into the mournful. Violin, beautiful guitars, choirs from paradise. We can note an excellent production throughout the album. The chorus of I'm Yours will make you dream. Wonderful time. Helpless is more energetic, bass, drums, chorus "oh oh oh oh," we clap hands without realizing it.
Jack Savoretti has the art of making acoustic sounds and he proves it once again with the sumptuous We Are Bound. Harsh voice, broken, deep, fantastic arrangements of strings. The acoustic bridge is divine, then bass, drums. You're going to fall on that title. The whole is reminiscent of what also proposes the young and talented James Bay. We continue our way with Tight Rope. Always a perfect acoustic work, piano and this sublime voice. Dark words still here. Troubled Souls is always of a melancholic temper, scratched alive and always magnificent arrangements, sober, which are not without making think of the great Jackson Browne. In any case, I can only wish him the same career as his master. This Troubled Souls, flies, electrifies, calms down, lots of emotions in just a few minutes. Much mastery in composition as well. Before landing smoothly ...
This Only You that follows has nothing to do with the Platters' title but it is dazzling, colorful. The kind of title you never get tired of listening to and that takes all its power live. "Only You Is All I Need ..." One of the tops of the album. Put it louder, the neighbors will understand you.
Acoustic arpeggios very successful once again for Sleep No More, western whistling, string programming and it still gives a great time. The female choirs of Pauline Taylor are divinely highlighted. Let me know where the weak point of this record is. I don't hear it. And that's good. It's going in an energetic way with Any Other Way, the most electric track on the album. Listening to the headphones will allow you to hear the whole musical palette of this title. Many instruments once again. Pleasant title. Start Living in the Moment is also energetic, we stamp one's foot, the sound is very silky, very velvety, it caresses our ears. Strings and a sumptuous acoustic guitar welcomes us for Lullaby Loving, another (yet) beautiful moment. Jack Savoretti changes the sweets and the more energetic moments and never gets bored. He knows how to build his songs without falling into commercial ease. The last title is When We Were Lovers, English version. The talent is there, Jack Savoretti proves it throughout his thirteen titles, he has the art and the ease to write beautiful titles. His previous album, Written in Scars, was done in pain, Sleep No More will undoubtedly be that of consecration. Many of these tracks take on a larger dimension in concert. Jack Savoretti reached here his adult age and maturity.
Published on april 8, 2017
LAST COMMENTS
2019/02/18 01:19:51
Crafton on The Bookends
Wonderful article and so well written, we thank you dearly!