Hazy Malaze - Blackout Love (2005)
Hazy Malaze is, unfortunately, a not very known band. It was founded by Neal Casal and his companions Dan Fadel and Jeff Hill. Neal Casal is the best known of the three, known for his work in solo and with Ryan Adams and the Chris Robinson Band, among others. Neal has a unique voice and a fluid guitar playing and able to play all kinds of music. Hazy Malaze offers a clever and subtle mix of rock'n'roll, soul and funk. In 2003 the band released an album of the same name, then this Blackout Love in 2005.
A groovy feeling with the funky Everything. The rhythm of bass seems like it was a James Brown's song The guitar distributes funky chords and Dan Fadel's drums is far from being left behind. The organ of John Ginty (guest on the album) thickened the sound. The clear voice of Neal Casal, even if it does not come from the funky music style, adapts totally to the exigency of this rhythm. We don't break the mood with the sublime Looking Out For You funky riff that will enthrall you for weeks. It makes you move, it's sexy and Neal's solo is here to remind us that he is an outstanding musician.
Dirty Summer is more rock'n'roll, more "easy" and less convincing. Even if the guitars move well. Corrina is a cover of bluesman Taj Mahal. It's bluesy, soul, electric and the rhythm is more than solid. Huge bass of Jeff Hill and reptilian solo of Neal Casal. Soul and funky is what Bust It Down is, electric guitars discuss, argue before drums win this battle. Three exceptional musicians who know how to swing and have influences more than varied. Neal Casal takes various intonations especially in the chorus. Superb. The solo explodes with the wah wah guitar. Need Somebody is a reggae (diversity) quite successful although not an absolute necessity. That said it's a pretty jovial song where the organ marries superbly with the guitar.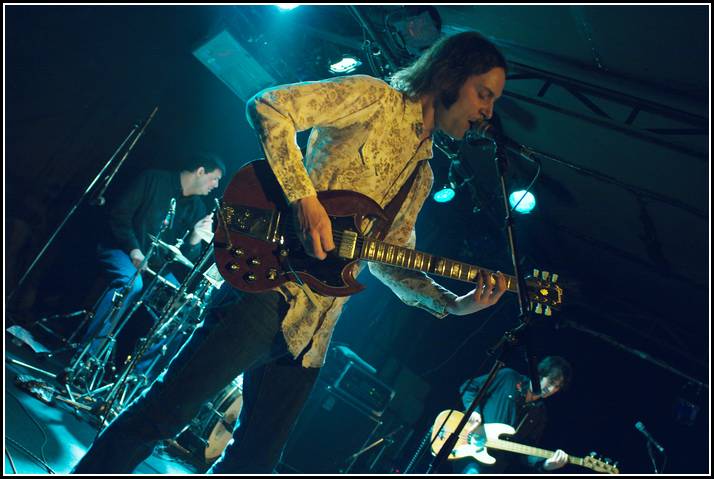 We go back to a funky swing with the excellent and rhythmic Got My Wings. Many guitars around Jeff Hill's sober bass. Musicians at the service of the song. We calm down with soul Soul Gets Lost recalling the rhythm'n'soul of the 50s and 60s. The organ of John Ginty shares the spotlight with the guitar of Neal Casal with happiness.
We go back to rock'n'roll with Rock'n'Roll Gone in a flash. Even though this Rock'nRoll Gone is not the best of successes. Nothing transcendent it is true, despite very rock guitars. Fortunately, we get together with the fast-paced Damage Talking guitar riff very sharp and punchy. Neal Casal is once again excellent at singing and the rhythm is at the height. Thank You In Advance completes this album in a funky and rhythmic way. The riff is simple but effective and irresistible. Once again a huge bass and devilishly efficient. A solo appears, smoothly, blues, still a favorite music of Neal Casal.
In the end, a beautiful album, from rock'n'roll to funk, rhythm'n'blues, soul with disconcerting efficiency. Musicians with a wide range of musical influences and a desire to play that never falters. It is unfortunate that Hazy Malaze has been put on hold by Neal Casal who has visibly gone to other horizons. He is currently working with the Chris Robinson Band and the Hard Working Americans. Fortunately we still have his solo albums and albums by Hazy Malaze.
Published on january 20, 2018