Hardline - Heart, Mind And Soul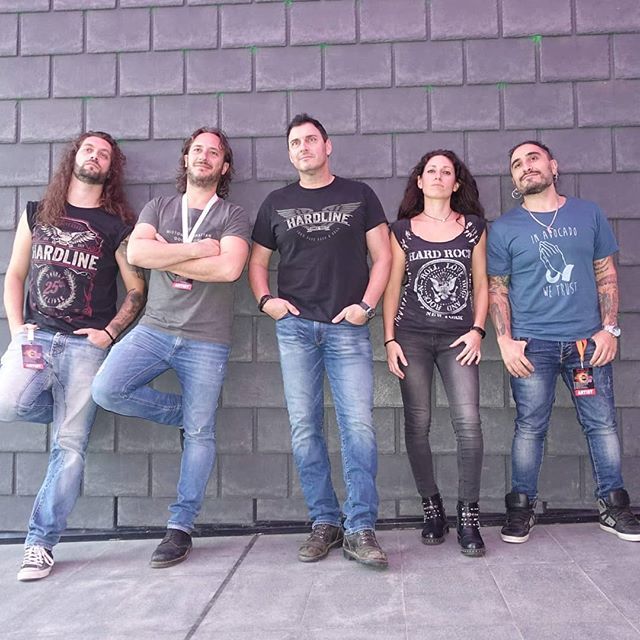 No change of line up among the Italian-Americans of Hardline. The great Johnny Gioeli is still on vocals, Mario Percudani on guitars, Alessandro del Vecchio on keyboards and backing vocals, Anna Portalupi on bass and Marco Di Salvia on drums. In 2019, the same line up released the very good Life. The group therefore finds great stability.
The arrival of Mario Percudani on guitars brought more rock songs, with more guitars. And on July 9, the quintet will release their new album titled Heart, Mind And Soul. Johnny Gioeli is still as sovereign on vocals and the musicians seem more united than ever. The rhythm section made up of Marco Di Salvia and Anna Portalupi is one. Alessandro del Vecchio's interventions on keyboards are excellent, as is his production.
Fuel To The Fire is pure hard rock made of an intractable and irresistible riff. A big rock influenced by Whitesnake. Synths soften Mario's wild guitars. We tap our feet, we swing our head back and forth, it's normal, it's the Fuel To The Fire effect. Surrender remains in these American hard rock influences of the 80s. The guitars are divine and Johnny is and will always remain an exceptional singer. Impossible not to crack in front of this melodic refrain. Melodic is the master word at Hardline.
Speaking of melodic, AOR, here is If I Could I Would where the piano masters its subject. Irresistible for any melodic rock lover. Like That, it's a Journey atmosphere with its dominant American rock guitars. Once again the chorus is perfect and the keyboards seem to caress the guitars. Ah and then as always with Mario, the solo is superb and airy.
Heavenly is a ballad. Piano, electric guitars and again and again vocal prowess by Johnny Gioeli. The backing vocals are magnificent and the shadow of Neal Schon is never far away, he who belonged to the group in its early days. Waiting For Your Fall offers another irresistible riff and a very technical drum part. A very powerful melodic rock.
The Curse is big guitars, a huge rhythm and always an indomitable chorus. Heartless is more technical but still rock and a phenomenal sound. Still no weakness on this album. Everything is coherent, melodic and very hard rock. As for the intro of Searching For Grace it is a marvel. Acoustic guitar, piano, sensual rhythm. And still an Imperial Johnny Gioeli. Searching For Grace is undoubtedly the song on the record. Magnificent.
We come back to the big rock of the 80s with a song called 80's Moment. The guitars are once again the centerpieces. And to abstain from it? Impeccable! We bring out the lighters, the t-shirts, the acoustic guitars for the last track of the album We Belong. A bit like Mr. Big's To Be With You. But maybe here more jazzy especially on the verses. And when Johnny Gioeli sings ballads he has no rival. We Belong is a very beautiful piece that you can listen to ten times in a row without ever getting tired. Mario Percudani is royal there. Mario is truly an exceptional guitarist, he can play all styles perfectly (get his solo album New Day released in 2010 to convince yourself).
A superb album, rock, melodic but with less ballads than usual. But the ballads featured here are more subtle and incorporate influences rarely borrowed by Hardline so far. And what a pleasure to find hard rock titles still influenced by our dear 80s and our favorite kind of rock.
Published on june 23, 2021