Don Johnson - Heartbeat (1986)
With more or less success and talent, a lot of actors and actresses have tried to sing. The list is long, it includes Eddie Murphy, Alyssa Milano, Patrick Swayze, Bruce Willis and even Philip Michael Thomas, the partner of Don Johnson in Miami Vice.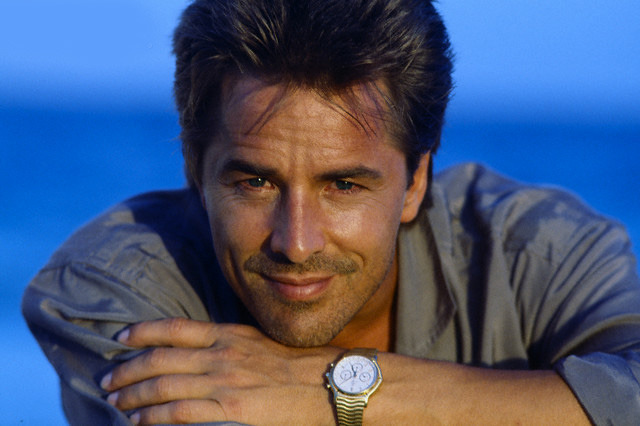 In 1986 therefore, Don Johnson launches into recording an album but this is not a beginner in the matter because everything here is perfectly controled, from the choice of songs to the choice of musicians. It's not just a caprice star because he is a true music lover and he's got many friends among great musicians as we will see by reading the guests on this album.
His friend, guitarist and composer Chas Sandford brings with him to the studio a few nuggets that Don Johnson willingly will serve. Excellent choice that Heartbeat (Kaz Erik, Wendy Waldmann), which will be a hit in the United States but also worldwide. Guitars, many guitars, good rhythm, great chorus, a rock solo made this song a hit. The voice of Don Johnson is certainly not exceptional but it goes well with the rock and will be pleasant throughout the ten tracks of the album.
Bill La Bounty wrote a very good Voice on A Hotline with a sax solo on the end of the song. Follows The Last Sound Love Makes equally good. The voice of Don is limited but he sings in tune on the cover of Tom Petty's Lost in Your Eyes. Frankly, there is nothing to throw in this album, the production of Chas Sandford and Keith Diamond is perfect, modern and today we listen to these songs with the same pleasure.
I love the song Coco Don't raised in its chorus by backing vocals of Tamara and Bill Champlin, Michael Des Barres (a great friend of Don Johnson) and Jamie Skyler. Heartache Away includes backing vocals with the great guitarist Bonnie Raitt (Lost in Your Eyes too).
But aside from how to sing, Don Johnson also write. Love Roulette and especially the wonderful last track of the album, Can't Take Your Memory and its piano intro prove it. Star Tonight is another highlight of the record. This song written by Bob Seger is co-singing with the legendary Willie Nelson. He played with Don in an episode of Miami Vice, entitled "El Viejo". Chas Sandford brought rock song Gotta Get Away.
A galaxy of rock gods and excellent musicians surround Don Johnson on Heartbeat. On guitars can be heard Dickey Betts, the Allman Brothers Band is the favorite Don Johnson's band, and also Stevie Ray Vaughan, Ron Wood, the Rolling Stone and Dweezil Zappa, son of Frank Zappa (who also starred in an episode of Miami Vice). On the drums can be heard among others Omar Hakim and Curly Smith (former Boston). The huge Lenny Pickett is on the saxophone.
Not in deference to his detractors, Don Johnson did a good rock album that still can be listened to pleasantly. The sound is modern. The actor has prepared very well this record and he succeeded. His partner in the series Miami Vice Philip Michael Thomas was also tried in music but with less success and it's a shame because he sings better than Don Johnson.
For some personal reasons, I still love Can't Take Your Memory I never tire of listening.
Published on april 20, 2016