Bruce Springsteen - Western Stars
I wondered what was becoming of him. I was listening to excerpts from the Boss's new solo album and I was more than skeptical. "But what is this marshmallow and these syrupy strings?" For the first time in forty years of Bossmania I was going to spend my turn on an Bruce Springsteen's album, the greatest artist of all time in my opinion. And then, i went back to reason because Bruce Springsteen can't miss an album. Simply because his records are mature, thoughtful, written and rewritten to the point of madness and, most importantly, he has a great respect for his fans. And listening to this Western Stars, we can say that at almost 70, the Boss still surprises. He is constantly renewed. While we were entitled to expect a Devils & Dust II, Bruce reinvents his discography and returns to his first love. Those of his true idols: Roy Orbison, Glen Campbell, Burt Bacharach, Harry Nilsson, Woody Guthrie. A kind of tribute to those who rocked his youth with their melodies and their sense of arrangement.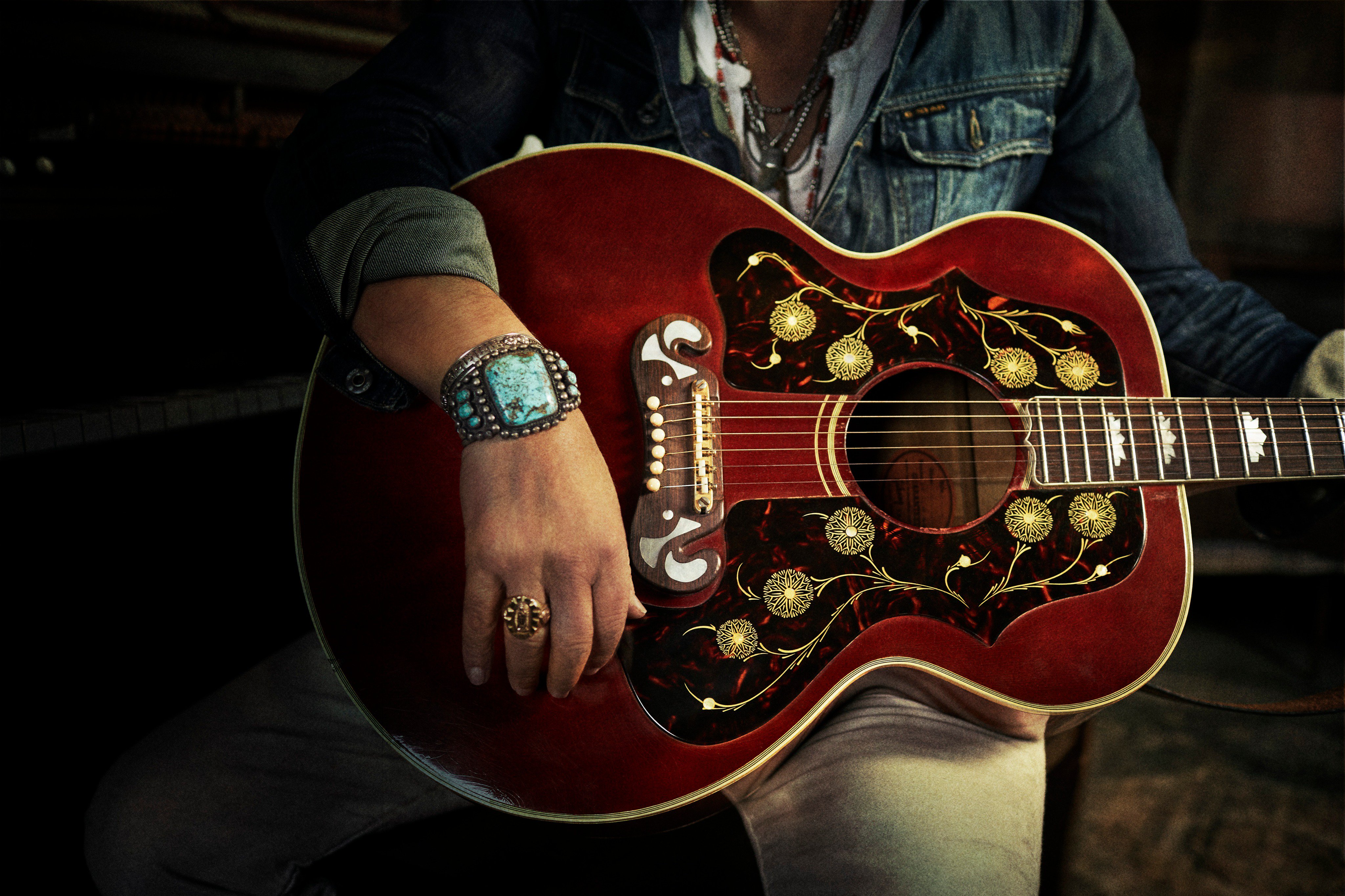 What are the thirteen Western Stars songs about? Cars, ex-stars, horses, large spaces burned by the sun, trains and even cafes. These are places where "normal" people meet each others, people who work hard. Bruce Springsteen does not play the stars, he is not one of those who think they are superior to the workers, those who haunt cafes, those who miss their lives but fight for better days. No, Bruce stays at the level of these people, he is on Earth. In fact, all these songs speak of one thing: freedom. That's why he likes to tell car or motorcycle stories. You take your car, a bag and go where you want. I'm free.

As for the production work of Western Stars, it is fabulous. Bruce Springsteen offered the services of Ron Aniello. And he was pleased to include stringed instruments, brass, as if it were raining. A production as Phil Spector used to do: abundant and rich. Hitch Hikin' is a story of freedom. "I follow the weather and the wind". Acoustics, then stringed instruments, piano. A ride on the road. Woody Guthrie is not far and he approves.
The Wayfarer sees the return to the piano of Bruce's former colleague, David Sancious. And here too, a lot of strings and brass. And a voice that knows how to be different and goes in the treble. The input of the drums is masterful. Many instruments under the thumb of the Boss' acoustic guitar but everything is well detached and put forward. And the sumptuous vocals of Patti Scialfa. Tucson Train, could have been part of an E Street Band album. The Rising era. The sound is sublime and the music positive.
Click here to watch the video of The Wayfarer
As for Western Stars, it's a wonder of sweetness. Bruce's acoustic guitar and lap steel of Marc Muller share the honors of this title. A song made for the road and your car radio. A hymn to freedom. Sleepy Joe's Café is guided by Charlie Giordano's accordion. It's a cheerful title, about the life of a cafe on the road and all the different people who meet there at night.
Click here to watch the video of Western Stars
Drive Fast (The Stuntman) tells the story of a stuntman at the end of his career. The piano sound is radically different from that of Roy Bittan, yet it's a title made for the E Street Band. The strings and the pedal steel guitar in addition. A lot of melancholy and nostalgia about a title that is far from sadness. Just a fact about a life and its memories. Chasin' Wild Horses is a ballad full of strings and maybe even a bit too much. It stretches and never seems to give full measure. I prefer Sundown on which Bruce Springsteen pushes his voice in highs. All on a steady pace and jovial. A great pleasure to hear him sing as well.
Click here to watch the video of Sundown
Beautiful parts of acoustic guitar parts on the melancholy Somewhere North of Nashville. We find back the Springsteen of Devils & Dust somewhat because the arrangements are more bare also. Stones is a marvel in nuance and colors. Bruce Springsteen knows how to be sentimental behind his rocker look. Paradoxes of a man torn by his Italian and Irish origins.
Click here to watch the video of There Goes My Miracle
The boss shows an amazing facet on There Goes My Miracle. He is almost a crooner, he takes his voice in spaces that we didn't know from him. Magnificent. He just sings, always on the edge of the razor and the string instruments are at once pompous and ... so subtle. Paradoxes. Hello Sunshine immediately makes me think of Harry Nilsson's Everybody's Talking, one of Bruce Springsteen's teen idols. Always strings, pedal steel guitar and a voice that will have been surprising from the beginning to the end of Western Stars. The album ends in beauty, on an acoustic Moonlight Motel, melancholy but never sad. The arrangements here are more ethereal and deep, leaving a good place for the Boss's guitar. It should be noted that there is no dark title as usual.
Click here to watch the video of Hello Sunshine
OK Bruce, once again you won. You swept away all my doubts, you still laid a fucking masterpiece. But how are you doing? Western Stars is an album that can be heard in one go, like a book, without skipping songs, which are like chapters in a book. But hey, I must however remain objective, even if it is a very beautiful album, I have however, on certain titles, a little trouble with certain arrangements of stringed instruments. As I said before, syrupy, pompous, but so subtle and clever. Paradoxes I said, paradoxes.
Published on june 15, 2019