Angus & Julia Stone - Angus & Julia Stone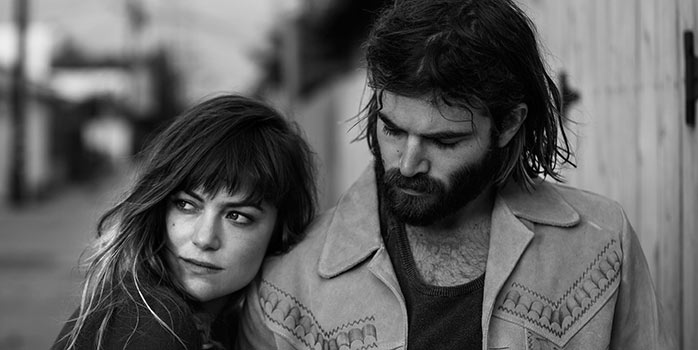 Although they are still young (28 and 30), the Stone has a long and lovely musical experience with the worldwide hit album "Down the Way" published in 2010, four years already. Meanwhile Angus and Julia have each released a solo album, both excellent.

In 2014, the brother and sister get together for an album simply titled "Angus & Julia Stone." The previous album (Down the Way) engraved beautiful hit songs like : Big Jet Plane, The Devil's Tears and the sumptuous Yellow Brick Road which peaked played live. I was pretty skeptical when I learned that the brotherly duo would release a new album. Could they make stronger than in 2010?

The album sleeve represents Angus and Julia sitting over a city at sunset. Nice sleeve. Angus is back fixing the horizon (the future?) and Julia looking at us (the past ?).

From the first notes, I am reassured with an A Heartbreak sung by both Stone, strong, wonderfully representative the guideline of the duo. Simple but melodic, authentic and a heady rhythm. A style that has already been proven. You feel goosbumps hearing the sublime My Word For It? Normal. Beautiful, definitely a hit. Angus and Julia know how to handle the emotions and place notes where necessary. The production of the great Rick Rubin is rude and raw cotton at the same time. The Stone reveal a new facet of their personality. More experience maybe. They traveled, met new people and it is reflected in their texts and in their manner of singing and playing
Grizzly Bear, a sumptuous Heart Beats Slow pace in simple and so beautiful. It smells of life. Yes, life. Simply.

Acoustics. Electric. Piano. Organ. All emotions pass. Wherever You Are, Get Home ...

It is impossible to listen to these songs without one think of a time in our lives where we were happy or unhappy.

Julia sings Death Defiying Acts. She's not really a great singer but so many emotions going on in her voice that we forget her lack of octaves. Who cares. These songs are excerpts from life, sharing feelings, fragments of happiness or bad slices of life.


Little Whiskey, From the Stalls (I'm still trembling of joy ), and the short acoustic Other Things, enchanting and aerial Please You. I continue my journey with delight and pleasure.

The long Main Street is heavy in its atmosphere and the voice of Julia takes us away. Crash and Burn is Neil Young's style. Electric. Bluesy. Atmosphere. A great success.

The first bonus is the nice Do Without sung by both Stone. Can't Remember Your Face they sing, probably the story of an encounter on the road. All This Love is in the same line. It definitely closes the disc with the electronic and strange but beautiful Roses.

That's over. I am done. I got screwed by the undeniable talent of the australian duo. Julia (Julia ah, I love her!) and Angus are very complementary. For around ten years already. They are back together for our pleasure and they spend the winter in Europe (in December in a few cities in France), don't hesitate. Their concerts are very intimate, always humorous.

Stone, the world is definitely Stone. It's rolling for them.
Watch the video of Heart Beats Slow
Published on september 2, 2014